𝄆 

Teneral
 𝄇
Teneral is a PC application program which displays text string as an enlarged banner by mapping pixels to characters — the text version of ASCII art.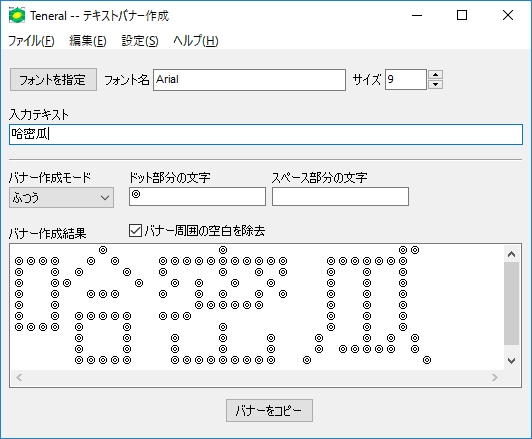 Version

1.1.1 

[7 January 2011]

Language(s)

Japanese

License

Freeware, no warranty, no user support provided

Disclaimer

Neither the author of this software nor the operator of this web site is liable for any direct or indirect damage caused by downloading, installing or use of this software.

System requirements

OS

Windows XP 32bit (x86) or above

Storage

2 megabytes of disk space

Display size

VGA (640x480 pixels) or above

Others

Keyboard or any other means of typing, and optionally a pointing device such as mouse, etc.

Specification

Characters

Every character which can be displayed in the fonts installed on the OS is available for input and banner

Banner

Two modes of banner style — "compact" and "ordinary"

File

File name

Teneral_111.zip 

[704 619 bytes]

Fingerprint

SHA-256: db1d740c9b856d984b4e9a8495b89cf46624d0edf33fd0c9508878f020ae1c70
Windows is the registered trademark of Microsoft Corporation.
Download