𝄆 

Zoocrypt
 𝄇
Zoocrypt is a PC application program by which easily processes plain texts and cryptograms in hexadecimal by applying cryptographic keys in hexadecimal too — best worked with communication and processing logs on debugging activities.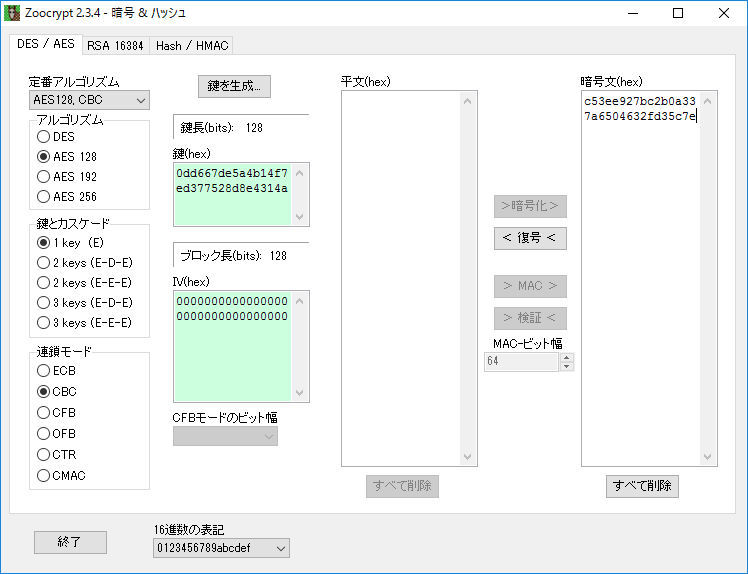 Version

2.3.4 

[30 May 2012]

Language(s)

Japanese

License

Freeware, no warranty, no user support provided

Disclaimer

Neither the author of this software nor the operator of this web site is liable for any direct or indirect damage caused by downloading, installing or use of this software.

System requirements

OS

Windows 2000 32bit (x86) or above

Storage

8.5 megabytes of disk space

Display size

SVGA (800x600 pixels) or above

Others

Keyboard or any other means of typing, and optionally a pointing device such as mouse, etc.

Specification

Shared-key

DES, TDEA (a.k.a. 2-key and 3-key Triple DES), AES with 128-, 192- and 256-bit keys

Public-key

RSA with key length between 128 to 16 384 bits, with non-CRT and CRT keys, and with PKCS#1 v1.5 and v2.1

Hashing

MD2, MD5, RIPEMD120, RIPEMD160, RIPEMD256, RIPEMD320, SHA-1 and SHA-2 (i.e. SHA-224, SHA-256, SHA-384 and SHA-512)

Keyed hash

HMAC using the hashing algorithms listed above

Notes

Key protection is NOT provided by this software, whose usage therefore EXCLUDES cryptographic communication, data secrecy, and so on.

File

File name

Zoocrypt_234.zip 

[2 307 427 bytes]

Fingerprint

SHA-256: 7bc41bbb9fcce526f2c53cd710a3e9db4ee6bcbd14013cd7bbfed95f26bc1adc
Windows is the registered trademark of Microsoft Corporation.
Download